Where to Apply
The application must be submitted online. You can submit your application through the College of Arts & Sciences Graduate Programs website.
Application Procedure
Students with a bachelor's degree in physics from an established college or university normally are prepared to begin graduate studies in physics at Lehigh and are encouraged to apply. Students with degrees in related areas will also be considered; their graduate programs will be designed to make up for possible deficiencies in physics or mathematics preparation. This page provides information for those who wish to complete the application process.
The normal terminal degree for those who want to pursue a career in scientific research or related areas in physics is the PhD.  Students who have a bachelor's degree can apply directly to the Lehigh PhD program and can receive a master's degree along the path to a PhD.  Certain career pathways can benefit from a terminal master's degree, and some students may choose to apply to the master's degree program in physics.  However, such students should note the difference in both application evaluation procedures and financial support between the two paths, described below under "Admissions Standards" and "Tuition, Costs, and Financial Support."
The Lehigh physics department conducts research in a wide variety of areas in physics. Unlike some programs, we do not admit applicants to work directly with individual professors or in specific subfields of physics upon admission. Rather, we admit all applicants generally to the full physics program. After the first two semesters of classes, students are paired with temporary advisors to conduct research for a summer, and then select final advisors and subfields of study. Since individual faculty have varying availability to serve as advisors, we recommend that applicants be open to working in several possible subfields of study in our program.
Admissions Standards
We seek academically prepared and motivated students for our graduate program.  Applicants should have an academic track record including courses in physics and mathematics that will prepare them for graduate-level classes and research in physics.  In the evaluation process we review the details of the application, including undergraduate grade point average, performance in individual math and science classes, and the ability to grapple with complex quantitative questions.  We review all elements of an application to understand a student's prior accomplishments and capability to carry out graduate-level original research in physics.  We seek students from a range of backgrounds and perspectives to contribute to a diverse and inclusive departmental culture.  Prior experience in scientific research is a benefit, but we realize that not all undergraduates have equal access to such opportunities.
Students who have received a master's degree in physics or a closely related area may apply to the Lehigh PhD program.  There are no advantages in the admissions process to obtaining a master's degree before applying to the PhD program. 
We seek well-prepared students for both the master's program and the PhD program, although the admissions criteria are not the same for both.  Students who are admitted to the Lehigh master's program may choose to apply to the Lehigh PhD program once they have completed their master's work, but no additional consideration is given to such students in the application process.
International Applicants
All international applicants are required to take the TOEFL (Test Of English as a Foreign Language) or the IELTS (International English Language Testing System). If you have done undergraduate or graduate studies in the United States or another English speaking country during the two years before application, you are not required to take the TOEFL or IELTS. The minimum scores required on the iBT TOEFL for admittance into the College of Arts & Sciences are Writing = 25; Speaking = 24; Reading = 21; Listening = 15; with a composite score of 85. The minimum scores required on the IELTS for admittance into the College of Arts & Sciences are Writing = 6.5; Speaking = 7.5; Reading = 6.5; Listening = 6.0; with a composite score of 6.5. These are the minimum scores that students should not fall below in order to be admitted to the College without some remedial language assistance.

Additional required ESL coursework must be taken during the initial academic year, concurrent with the regular department coursework, for any student with (1) one or two individual skill section scores below target, but with a composite above the target, or (2) only one individual skill section below target, but a composite score below the target. Any student with three skill section scores below target, or two skill sections below target and a composite score below, will be required to attend the StepUp Intensive English Program at Lehigh. The  university's International Center for Academic and Professional English provides more information regarding this requirement.
Items required to complete an application:
An application form must be submitted (see below). The application form includes contact information for the applicant, a CV, a personal statement, and other information.
Official transcripts must be submitted from each university attended, listing the type of degree and the date it was awarded. Foreign transcripts must include notarized English translations and conversion of grades to the American 4.0 grading scale.
At least three letters of recommendation are required.
The General GRE Test is required for all applicants. The Physics GRE Subject Test is not required for admission, but applicants are encouraged to take it. The exam scores must be less than 5 years old.  Official GRE scores are not immediately needed as part of  your application, which can instead list self-reported scores. The self-reported scores will then be verified later if you are offered admission. At that point you will be required to send the official GRE scores.
The TOEFL or IELTS exam is required for international applicant unless they have attened an English-language institution in the two years before applying. The exam scores must be less than 5 years old.
A $75 non-refundable application fee should accompany the formal application.
International applicants to the master's program are required to provide proof of financial support in the form of a financial guarantee or letter of support before enrollment is permitted.
Letters of recommendation
We require applicants to arrange for at least three letters of recommendation.  When you fill out your application online, there is a section in which you will be prompted to enter the names and email addresses of your letter writers.  Once you complete your application, an automated email will be sent to the letter writers informing them of the request, with instruction on how to submit the letters through the online system.
Image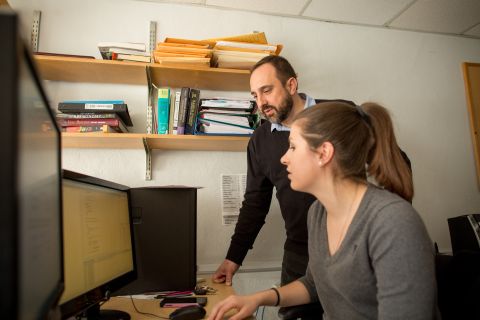 Tuition, Costs, and Financial Support
The Physics Department works to provide financial support to all enrolled PhD students in good academic standing.  Financial support has two parts: tuition credit and a living stipend.  Students with financial support do not pay tuition directly and receive a monthly stipend to cover the cost of living expenses while in graduate school.
Financial support typically comes in one of three forms: teaching assistantships, research assistantships, and fellowships. For 2023-2024, the stipend for teaching and research assistants was $34,000 annually. For incoming PhD students, financial support may be available during the summer prior to beginning graduate study.
Some university-endowed and nationally funded fellowships are available to outstanding candidates that include higher stipends.  Fellows who desire some teaching experience may also be considered for limited teaching assignments, for which additional compensation is provided.
Students admitted to the master's program do not receive tuition credit, and are not eligible for financial support, either with teaching assistantships, research assistantships, or fellowships.  They are responsible for covering the full cost of tuition, and do not receive living stipends.
Living Expenses
Graduate students at Lehigh live in a wide variety of accommodations. These range from apartments and rooms within walking distance of campus to country houses and modern garden apartments a few miles away.

Expenses can be reasonable, especially if accommodations are shared. The University operates a 148-unit five-building garden apartment complex for married and graduate students, located on the Saucon Valley campus. Free bus service to the main campus is provided hourly.

Further information on housing is available at the Graduate Housing website , or from Housing Services.

For more information about the program and the application procedure, click on the links above, e-mail physics@lehigh.edu for questions, or to arrange a visit. Additional information about the graduate program is also available at GradschoolShopper.